Leeds, Bradford and Sheffield
These three cities are in Yorkshire, a huge county in the North of England. In terms of area, Yorkshire (3.6 million acres) is bigger than the next two largest counties combined (Lincolnshire 1.7 million acres; Devon 1.6 million acres). With a population of approximately 5,510,000 people, Yorkshire has more people than countries such as Denmark (5.1 million), Finland (5.1 million) and Ireland (4.9 million).
Yorkshire has some of the UK's major cities and vast areas of rural countryside and hills. Until local government was reorganised in 1974, Yorkshire was divided into four large sections, called Ridings (or thirds). These were called the North Riding around York, the West Riding (Leeds, Bradford, Huddersfield) and the South Riding (Sheffield, Barnsley, Doncaster). The area around Hull is known as the East Riding. Why is it so big? Probably because it was the large area of land that the Vikings conquered and named Jorvik (the name they also used for York, their capital). They also went on to take a much larger area of land in the East Midlands, known as the Danelaw, but Jorvik was the Viking heart.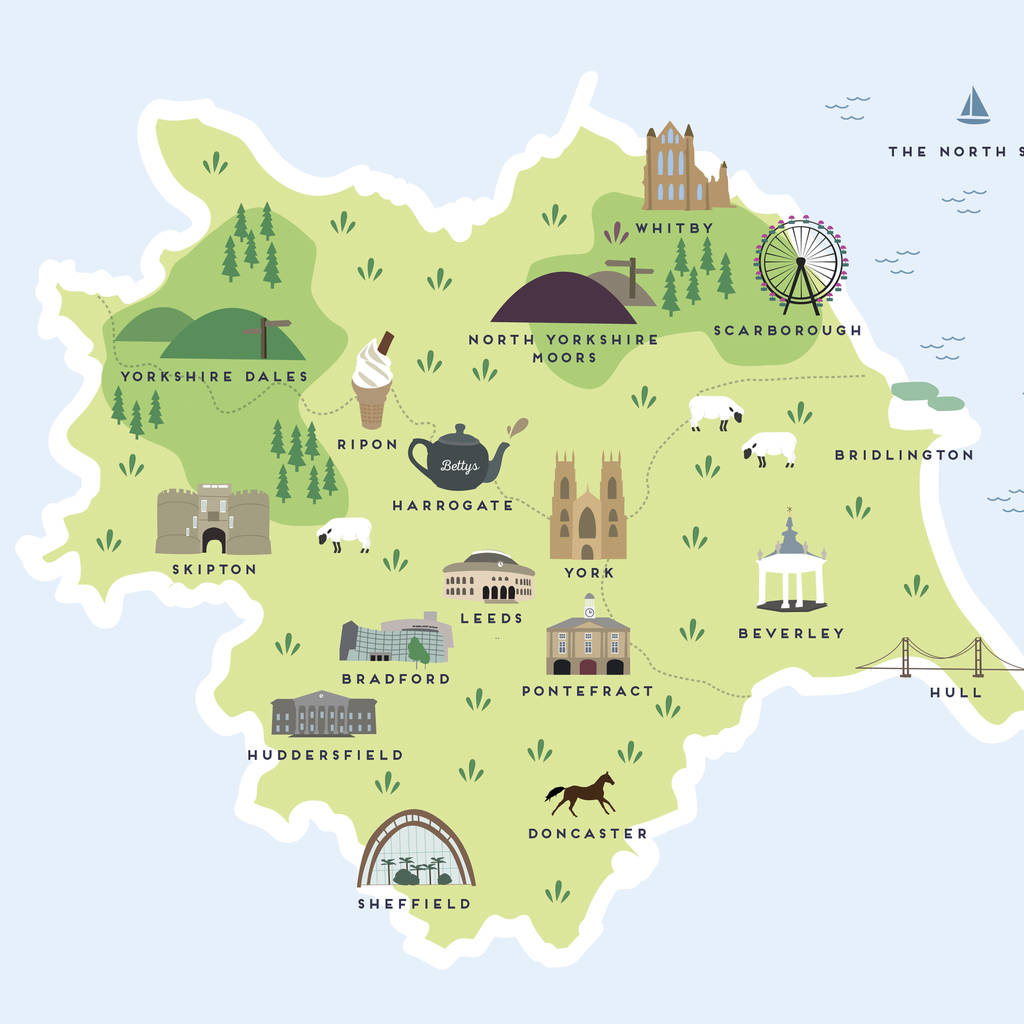 Leeds
Until the industrial revolution in the 1800s (the 19th Century), Leeds was a thriving small market town. During the industrial revolution it became a major industrial city, based around the River Aire. The economy was based on a number of areas, including wool, flax, engineering and iron foundries. Many of the large industrial cities in the north have fallen behind other areas as industrial jobs have gone, but Leeds is a vibrant, successful city with a strong economy.
Bradford
Like Leeds, Bradford was a small centre in West Yorkshire before the industrial revolution and then became a major centre in the 1800s (the 19th century). In 1801 it had a population of 6,393 people; by 1901 this had reached 395,690. Bradford is famous for its wool and textile industry. It was able to grow as a major centre because it had many of the resources needed for manufacturing: coal, iron ore and plenty of water from rivers running from the nearby hills. In recent years, as the UK textile industry has declined, Bradford has not been able to replace the employment opportunities.
Sheffield
As with Leeds and Bradford, Sheffield grew quickly during the industrial revolution, becoming famous for its steel production. This industry was central to Britain's growth as an industrial power and was possible because of the many coal mines in the area. Once the mines started to close in the 1970s and 1980s, manufacturing in the city declined. As well as many beautiful buildings, the Victorians created many parks in Sheffield, which is famous for being a very green city.