Sport at Becket
SPORTS DAY - BATTLE OF THE BUBBLES
Tuesday 7th July
This coming Tuesday we invite you at home to compete in a 'Battle of the Bubbles' Sports Day! Our sports day begins with a live Wake and Shake at 9:15am. Follow us on facebook to join in the fun.
Activities to join us in this event, can be found via the Sports day tab on the right or at the bottom of your screen. All learning timetables will be suspended to allow you time at home to compete as a family. Please share in our day! Send your results to admin@becket.n-somerset.sch.uk to be added to our live results table and share pictures/videos of you enjoying these activities as a family.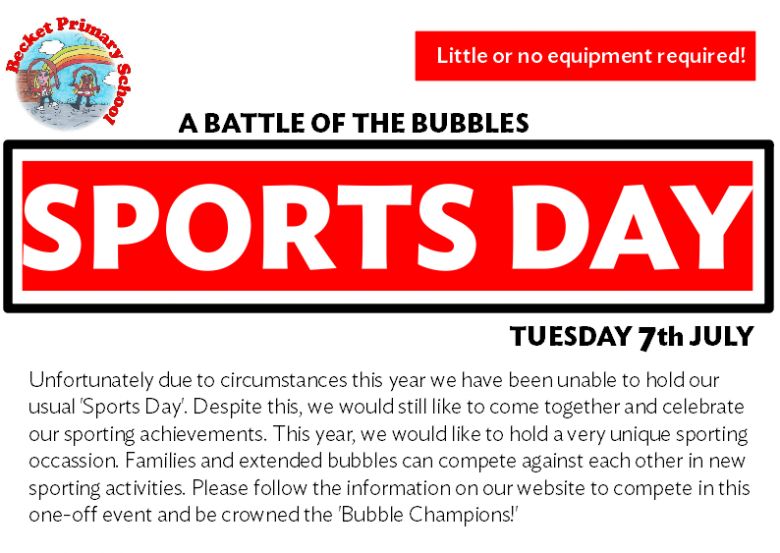 INTERNATIONAL OLYMPIC DAY
TUESDAY JUNE 23RD
Celebrate 'International Olympic Day' with us this year. Use the resources at the bottom of this page to participate in a 'Radio Taiso' - https://www.getset.co.uk/resources/active-assemblies/radio-tais - , design your own Olympic Mascot and discover other fun things about the Sporting event of the year. Why not try one of the unique sports found in the document below such as 'Toe Wrestling'.
Get Set Eat Fresh
Get set are giving away 1,000 exclusive adidas Olympic Day t-shirts for International Olympic Day on 23rd June!
Show us how you've been staying active and eating fresh for the chance to claim a class pack of our limited edition t-shirts. Simply share what you've been doing on Twitter using #GetSetEatFresh and #OlympicDay or add your story to our community page!
Find some resources at the bottom of this page to find and make some of your own recipes from around the world!
Get Set Tokyo
Get Set makes a real difference to young people's lives.
Using Get Set's programmes, such as Get Set's Road to Rio which was partly funded by Spirit of 2012 Trust, has encouraged uptake of a wider range of sports and activities, and more young people taking part in sport in general. Over 80% of young people agree that the programme has contributed to increased participation in physical activity. Over 80% of teachers have found that the programme supports their school's ethos, and has made the school community more active.
Follow the link to log your daily activities.
https://www.getset.co.uk/travel-tokyo
Find a range of activities to do with your family inside or outside the house.
https://www.getset.co.uk/resources/travel-to-tokyo/tokyo-ten
https://www.getset.co.uk/resources/travel-to-tokyo/indoor-activity
To find out more about the Olympics and Paralympics explore some of the attachments at the bottom of this page.